Business model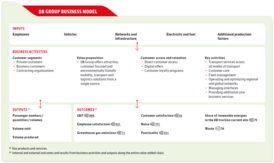 DB Group offers attractive, customer-focused and environmentally friendly mobility, transport and logistics solutions and networks from a single source. We utilize the possibilities of digital technologies to improve our operational and administrative processes, to continuously develop services for customers, to integrate new services, and to simplify the customer interface. The Integrated Rail System is at the heart of our business activities. In addition, we are gradually expanding our business portfolio in the area of mobility and logistics in order to meet our customers' needs more effectively and respond to new market demands.
Our passenger transport activities have a broad base. In addition to bus and rail transport, this also includes intelligent links with other modes of transport such as cars and bicycles, but also with new forms of mobility that complement the core business and enable door-to-door mobility. We offer long-distance rail passenger transport within Germany and into neighboring countries. DB Arriva has a Europe-wide presence in regional and local transport, enabling participation in the increasing market potential in opening bus and rail transport markets.
Our business activities in the freight transport and logistics market were moved to an international platform very early on. DB Cargo and DB Schenker operate predominantly in the business-to-business segment. We offer our customers industry-specific solutions in European rail freight transport and global land transport, in global ­air and ocean freight, and in global contract logistics. Cover­­ing all relevant modes of transport allows us to offer complex combined logistics services and to make use of synergies in our networks for the benefit of our customers.
As an operator of networks and provider of services in passenger transport, freight transport and logistics, as well as track infrastructure, our economic success is influenced by the general economic environment and the specific development of the various relevant markets:
Other than special events such as the Covid-19 pandemic, demand for passenger transport is driven first and foremost by the growth of major cities, the size of the population, the number of people in employment, and real disposable incomes. Competitiveness relative to car transport is heavily influenced by the trend in fuel prices.
Our freight transport and logistics operations depend largely on economic developments. Due to our global networks, we monitor the development not only of global gross domestic product (GDP) and world trade, but also of economic growth in the regions, countries, and trade relations in which we have a high market share or in which high growth rates in the exchange of goods can be expect­­­ed. Customary early-warning indicators of the business climate and of the expectations of purchasing managers are an integral part of our monitoring system.
The market environment of DB Cargo is heavily influenced by industrial production. Furthermore, the cross-border movement of goods within Europe is growing in importance.
The development of the economic and early-warning indicators, as presented above, influences how we manage our market activities and resources. Opportunities and risks can therefore be recognized early on, and, as a result, short-term controlling activities and long-term positioning focused accord­­ingly. At the same time, we work systematically on optimizing our operating value drivers.
Operating transport networks often necessitates a high level of capital commitment, long investment cycles and distinct fixed cost structures. In this respect, achieving optimal capacity utilization of the networks and systematically developing, integrating and cost-effectively operating these networks with the efficient use of resources are important to DB Group's economic development. Ensuring and improving service quality for our customers is at the center of our activ­ities. By expanding what we offer our customers, particularly digital services and customer loyalty programs, and integrating new forms of mobility and intelligently linking with other modes of transport, we intend to gain additional customers in order to realize increasing volumes and economies of scale.
We generally use operating performance data to measure capacity utilization in our networks and our market shares. In order to determine a relative return, we calculate ratios comparing performance data with the generated revenues (specific revenues).
With our national and international subsidiaries, DB Group operates in almost all segments of the transport market. Our comprehensive service portfolio enables us to offer our customers services combined from a single source.
In DB Regional and DB Arriva, the order book in the form of long-term transport contracts entered into with the contracting organizations of Germany's Federal states and franchisers in other European countries constitutes a key performance metric for business development. There are also long-term contractual relationships with customers in DB Schenker's contract logistics line of business.
There are five key success factors in the development of DB Group, which are a central component of our business model.
Corporate social responsibility: As a federal provider of mobility and logistics solutions, DB Group has a major responsibility for the future of our country. As the backbone of the green and networked mobility of the future, rail plays a key role for our country: it helps to achieve climate protection targets, promotes integration and quality of life, and makes areas more attractive for business, as well as empowering Europe's people and economy. In short, society as a whole benefits from strong rail transport. We consistently focus our business operations on achieving Strong Rail and prioritize our activities along the value-added chain accordingly.
Entrepreneurial approach to business: In the course of the German rail reform DB Group has established itself as a commercial enterprise. Noteworthy in this context are the establishment of a modern and efficient organization and a value-based corporate management approach.
Integrated Group: As a system integrator in Germany, we are optimizing the Integrated Rail System as a whole. In doing so, we are fulfilling our important role as a technological pioneer. The integrated Group structure enables us to achieve positive synergies and align our infrastructure to support efficiency, market orientation and profitability. The digitalization of rail can only be successfully developed and implemented in the Integrated Rail System. Our customers also benefit from the integrated Group. Thanks to the economically, environmentally and technologically intelligent links between different modes of transport, we offer our customers door-to-door mobility and logistics solutions from a single source.
Europe as the field of action: As the geographical and economic heart of Europe, Germany has a special responsibility for the future of the continent. Given the importance of Strong Rail for Europe, Europe will continue as our main field of action in the future. In order to take into account customers' needs for cross-border solutions, we continue to position ourselves at the European level with our passenger transport activities. Due to the European and worldwide orientation of our freight transport and logistics activities, we offer our customers the access they need to global networks.
Digitalization: We use the technologies and methods of digitalization to offer customers an attractive range of prod­­ucts. This means, on the one hand, that we are incorporating new transport offers into our product portfolio, such as on-demand mobility, and establishing new platforms for our customer interfaces. On the other hand, we support our internal processes with technologies such as artificial intelligence, so that we can continue to offer customers fair prices with efficient processes.