Business model
DB Netze Stations is the largest station operator in Europe. In addition to the core business – the development and operation of stations – the business unit offers a variety of mobility-­oriented services in stations. With about 866,000 m² of leased space, we are among Germany's largest commercial landlords.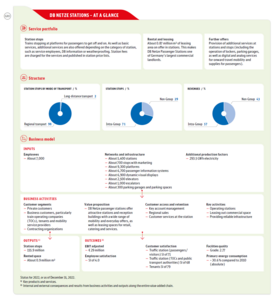 Trains of about 125 TOCs operate daily at our stations. We set particular priorities in the areas of quality of stay and customer offerings so that we can offer customers high quality standards. Our station managers also work hard on-site to ensure seamless operations. Our station portfolio has a particularly wide geographical coverage. The design of the developed products and services and the structural dimensions of the stations are based on the needs of our customers and the economic stability of the infrastructure.
Revenues are generated primarily from station stops (regulated, about 70% share) in the stations and from leasing out commercial space (not regulated). The expense side is characterized by a high fixed cost component. Our most important regulatory partners are the BNetzA and the EBA.