Implementing Strong Rail
We have set ourselves the goal of harmonizing the economic, social and environmental factors with our business goals. Sustainability is anchored in our guiding principles and is an integral part of our DNA. In response to the rapidly changing environmental, social and political framework as well as internal challenges, we have formulated a new structural aspiration – our inner ambition – with the Strong Rail strategy at its heart. With the Strong Rail strategy, we expressly acknowledge our social responsibility and define our concrete contribution to achieving the Federal Government's central transport and climate policy objectives. With our new strategic focus, we are also concentrating more on the core business of the railway in Germany to address the internal challenges and growing expectations of stakeholders in Germany, with regard to the particular responsibility of DB Group. In order to live up to this responsibility, we will measure everything we do at DB Group on the value of its contribution to a strong rail system. This also applies to our affiliated companies. The Supervisory Board of DB AG has given DB Management Board the mandate to examine and prepare a possible sale of up to 100% of DB Schenker shares. Joint operational initiatives will focus on achieving synergies within the integrated network. Subsidiaries without strategic relevance for Strong Rail will be placed under scrutiny.
With the Strong Rail strategy, we have set the course for a shift in the mode of transport and are expecting to create additional capacity, increasing product quality and improving customer satisfaction. Our strategy is a framework with which we both continuously create the internal prerequisites for shifting traffic to the rails and ensure sustainable alignment with the Green Transformatiom. of DB Group. In order to create the necessary conditions for the shift in the mode of transport, we have identified three strategic areas within the Strong Rail framework:
More robust: We are committed to the extensive expansion of performance-critical capacities. With a long-term focus on growth and technological innovations, we are creating the necessary capacities in infrastructure, vehicles and personnel. Among other things, together with the Federal Government, we are investing billions in the expansion and construction of lines and hubs, additional terminals for freight transport and the purchase of new vehicles. We achieve more capacity through the digitalization of rail operations, better capacity management and extensive and sustainable measures in recruiting and qualification. More trains, more train-paths and more employees will enable us to transport more people and goods while offering a higher quality of service.
More powerful: In order to be able to achieve a high and sustainable performance level in the long term, we will also carry out structural changes. We are simplifying the organization and aligning it systematically with the common goal of Strong Rail. In order to be more customer-­centric and respond more quickly to employees, we rely on a strong regular and functional organization, the intro­duction of customer-oriented collaborative processes to improve cross-business unit cooperation, and an engaging process philosophy with common standards and methods. With simple processes and clear responsibilities, we become faster and more disciplined in our implementation of strategies.
More modern: We will increase the pace of innovation for our customers. By expanding our activities in the area of new mobility, we provide our customers with an integrated offer that almost extends the rail line right up to their doorstep and complements local public transport in a meaningful way. By using digital technologies, we will also facilitate the effortless switch between the different means of transport. The integration of new and innovative forms of mobility and the use of smart services and digital platforms create clear added value for our customers. In this way, we take into account rising customer expectations and create an attractive offer for sustainable mobility and logistics, both in cities and rural areas.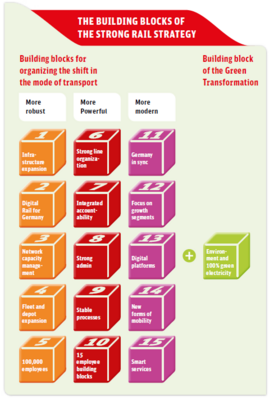 For each of these three expansion areas, we have identified five central issues, which we call building blocks. The key criterion for selecting the building blocks is their importance across business units for our goal of a strong rail system in Germany and therefore also for the Federal Government's transport and climate policy goals. This has resulted in a total of 15 building blocks to help us to organize the shift in the mode of transport. They are supplemented by building blocks specific to each business unit.
However, the shift in the mode of transport to rail can only achieve its full potential if the railway also continues to strengthen and expand its climate-friendly operations and other environmentally friendly advantages. DB Group's Green Transformation is therefore a central requirement for the effectiveness of the shift in the mode of transport. To live up to the importance of this topic, we have defined another overarching building block through which we aim to ensure the effectiveness of the shift in the mode of transport. Togeth­er, these 15 +1 building blocks form the strategic framework of our business alignment.