Business model
DB Cargo offers its customers in 17 European countries access to one of the biggest rail networks in the world, extending as far afield as China, and is the number one in European rail freight transport.
Across its international network, DB Cargo
transports freight cars and groups of freight cars in the single wagon transport system,
enables transport chains for containers or truck trailers belonging to shipping companies and freight forwarders using multiple modes of transport (rail, ships, trucks) in combined transport, and
operates direct connections from siding to siding in block train transport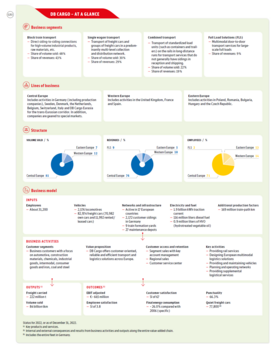 In addition to the pure transport service, DB Cargo creates individual solutions with additional logistical services for its customers. Owned or rented traction units and freight cars, terminals and train formation yards, as well as in-house personnel resources, are used to provide services. Customers include the manufacturing industry in the automotive, steel, recycling and raw materials, chemicals and mineral oil and building materials, industrial and consumer goods sectors, as well as shipping companies, forwarding companies and combined transport operators throughout Europe. Customers are increasingly making a conscious decision to use DB Cargo to replace the more environmentally harmful option of transport by truck.
Since DB Cargo generates the majority of its income by transporting goods by rail, the leading performance indicator is volume sold in ton kilometers. In addition to the depre­ciation of locomotives and freight cars, as well as personnel expenses, the main cost components are energy, infrastructure and maintenance expenses. The intra-Group infrastructure companies and service providers are important suppliers in this respect.