Contracts of domination and profit and loss transfer agreements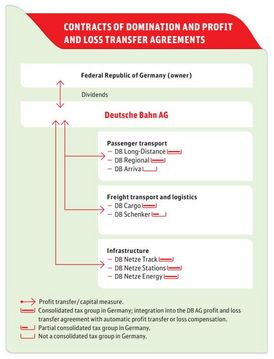 Profit transfer and loss compensation between companies in Germany do not constitute intra-Group transactions. On the contrary, the profit and loss transfer agreement stipulates that the amount of profit distributed or the sum required to offset losses is not reset every year but is calculated automatically. The cash flow is based on the shareholder's right to profits or obligation to compensate any losses. Notwithstanding this, DB Group ensures that Group companies have a sufficient equity base despite the commitment to offset potential losses generated by other companies within the Group.
Investors are only willing to provide capital if amorti­zation and interest rates are ensured. A purely debt-based financ­ing model is not commercially viable, as it is associated with too high risks. Profits are essential for maintaining DB Group's capital expenditure capacity. Profits generated are either retained or distributed to the Federal Government as the sole shareholder. The share of profit retained (accumulated) in DB Group increases the capital expenditure and borrowing capacity.
CASH FLOWS DB AG AND DB INFRASTRUCTURE COMPANIES /
€ million

2000

2001

2002

2003

2004

2005

2006

2007

2008

2009

2010

2011

2012

2013

2014

2015

2016

2017

2018

2019

2020

2021

2022

Total

FROM CAPITAL INCREASES BY DB AG

DB Netz AG

–‍

–‍

–‍

–‍

–‍

+600

–‍

–‍

–‍

–‍

+620

–‍

–‍

+5

–‍

–‍

–‍

+1,000

–‍

–‍

–‍

+1,125

+1,300

+4,650

DB Station&Service AG

–

–‍

–‍

–‍

–‍

–‍

–‍

+286

–‍

+28

+111

+14

–‍

–‍

–‍

–‍

–‍

–‍

–‍

–‍

–‍

+1,000

+49

+1,488

Total

–‍

–‍

–‍

–‍

–‍

+600

–‍

+286

–‍

+28

+731

+14

–‍

+5

–‍

–‍

–‍

+1,000

–‍

–‍

–‍

+2,125

+1,349

+6,138

FROM PROFIT AND LOSS TRANSFER AGREEMENTS TO (–)/FROM (+) DB AG

DB Netz AG

+790

+181

+548

+324

+183

+260

+212

–‍146

–‍338

–‍768

+44

–‍307

–‍197

–‍66

–‍217

–‍81

–‍280

–‍390

–‍509

–‍402

+23

+139

–‍403

–‍1,400

DB Station&Service AG

+70

–‍0

+251

–‍37

–‍55

–‍69

–‍52

–‍90

–‍190

–‍150

–‍141

–‍155

–‍160

–‍169

–‍188

–‍203

–‍176

–‍186

–‍190

–‍146

+32

+61

+2

–‍1,941

DB Energie GmbH

–‍34

–‍2

–‍29

–‍43

–‍47

–‍44

–‍111

–‍106

–‍18

–‍91

–‍38

+38

–‍62

+37

–‍39

–‍51

–‍35

–‍59

–‍12

+3

+66

–‍126

–‍140

–‍943

Total

+826

+179

+770

+244

+81

+147

+49

–‍342

–‍546

–‍1,009

–‍135

–‍424

–‍419

–‍198

–‍444

–‍335

–‍491

–‍635

–‍711

–‍545

+121

+74

–‍541

–‍4,284

DIVIDEND PAYMENT TO THE FEDERAL GOVERNMENT (FOR PREVIOUS YEAR)

DB AG

–‍

–‍

–‍

–‍

–‍

–‍

–‍

–‍

–‍

–‍

–‍

–‍500

–‍525

–‍525

–‍200

–‍700

–‍850

–‍600

–‍450

–‍650

–‍650

–‍

–‍

–‍5,650
(+) Cash inflow (–) Cash outflow