Strategy
Our inner ambition
Our inner ambition is to ensure that Germany has a strong rail system. Building a strong rail system will help our country to overcome existential challenges:
For the climate. No other motorized transport today is as climate-friendly as the rail system. In addition, no other means of transport is as electromobile – and therefore as low in greenhouse gases and pollutants – as rail, which holds the largest market share of e-mobility in Germany. No other mass transport can achieve a 100% share of renewable energies as quickly – by 2038, we will have converted our traction current in Germany to 100% eco-power. A strong rail system is therefore an essential prerequisite for meeting the climate protection targets of the Federal Government and the EU, because a reduction in emissions in the transport sector cannot be achieved without a massive shift in the mode of transport towards the climate-friendly rail system. Strong Rail is a crucial beacon of hope for our climate. In concrete terms, the shift in the mode of transport and other climate protection measures through Strong Rail means: annual savings of up to 10.5 million tons of CO₂ per year in the transport sector in Germany.
For people. By 2050, almost 85% of the population of Germany is expected to live in metropolitan areas, compared to about 75% in the early 2020s. A consequence: the growing amount of passenger and freight transport will present our cities and metropolitan areas with even more logistical, social and ecological challenges than they currently face. The situation is different in many rural areas. Here, one of the key challenges is preserving individual mobility. In the future, a strong rail system can continue to enable vibrant, urban coexistence and the accessibility of rural regions, because it will enable real mobility and allow travel time to be used in a variety of ways, without wasting valuable hours in our days. In concrete terms, a strong rail system for people means a doubling of passenger numbers in rail passenger transport and thus five million fewer car journeys and 14,000 fewer air journeys in Germany per day. The five million car trips a day correspond to about half of all daily shopping trips made by car. In the case of air travel, every sixth domestic flight would be replaced.
For the economy. Demand for freight transport is expected to continue to grow steadily in the coming decades. At the same time, commutes between metropolitan areas and surrounding regions as well as increasing flexibility in terms of workplaces and working hours will lead to higher demand on work-related mobility. With a strong rail system, this rising volume of traffic can be overcome, enabling environmentally friendly economic growth. A strong rail system is therefore a crucial competitive factor for Germany's future economic success. It secures Germany's position as a leading exporting nation. With it, we are competing for the most modern transport logistics, and developing decisive technological stimuli for the future. In concrete terms, Strong Rail for the economy means: growth in the modal share of rail freight transport from 18% in the early 2020s to 25%. This corresponds to about 13 million fewer truck journeys per year on German roads.
For Europe. Germany has a special responsibility for the future of Europe. As well as being the most populous country, it is also the geographic and economic heart of the continent. This role means Germany must be the pio­neer and set the precedent for advancing European objectives. Climate protection, jobs, economic growth, social prosperity: much depends on Germany's and Europe's transport routes remaining future-proof. Strong Rail is the necessary link between East and West, and North and South. It is not only an important instrument for cultural understanding between the individual countries, it is also a decisive factor for the joint achievement of the set goals. In concrete terms, Strong Rail for Europe means: working together to realize a European network.
Implementing Strong Rail
We have set ourselves the goal of harmonizing the economic, social and environmental factors with our business goals. Sustainability is anchored in our guiding principles and an integral part of our DNA. In response to the rapidly changing environmental, social and political framework as well as internal challenges, we have formulated a new structural aspiration – our inner ambition – with the Strong Rail strategy at its heart. With the Strong Rail strategy, we expressly acknowledge our social responsibility and define our concrete contribution to achieving the Federal Government's central transport and climate policy objectives. We are also concentrating more on the core business of the railway in Germany to address the internal challenges and growing expectations of all stakeholders, from customers to politics to the citizens in Germany, with regard to the particular responsibility of DB Group. In order to live up to this responsibility, we will measure everything we do at DB Group on the value of its contri­bution to a strong rail system. This also includes our subsidiaries. Subsidiaries with strategic significance for Strong Rail, such as DB Schenker, will continue to be held as financial investments. Joint operational initiatives will focus on achieving synergies within the integrated network. Subsidiaries without strategic relevance for the Strong Rail will be placed under scrutiny.
With the Strong Rail strategy, we have set the course for a shift in the mode of transport and are creating additional capacity, increasing product quality and improving customer satisfaction. Our strategy is a framework with which we both continuously create the internal prerequisites for shifting traffic to the rails and ensure sustainable alignment with the Green Transformation of DB Group. In order to create the necessary conditions for the shift in the mode of transport, we have identified three strategic areas within the Strong Rail framework:
More robust:

We are committed to the extensive expansion of performance-critical capacities. With a long-term focus on growth and technological innovations, we are creating the necessary capacities in infrastructure, vehicles and personnel. Among other things, together with the Federal Government, we are investing billions in the expansion and construction of lines and hubs, additional terminals for freight transport and the purchase of new vehicles. We achieve more capacity through the digital­ization of rail operations, better capacity management and extensive and sustainable measures in recruiting and qualification. More trains, more train-paths and more employees will enable us to transport more people and goods while offering a higher quality of service.

More powerful:

In order to be able to achieve a high and sus­tainable performance level in the long term, we will also carry out structural changes. We are simplifying the orga­nization and aligning it systematically with the com­­-
mon goal of Strong Rail. In order to be more customer-centric and respond more quickly to employees, we rely on a strong line organization and functional organization, the in­­troduction of customer-oriented collaborative processes to improve cross-business unit cooperation, and an engaging process philosophy with common standards and methods. With simple processes and clear responsibilities, we achieve greater implementation discipline and speed.

More modern:

We will increase the pace of innovation for our customers. By expanding our activities in the area of new mobility, we provide our customers with an integrated offer that almost extends the rail line right up to their doorstep and complements local public transport in a meaningful way. By using digital technologies, we will also facilitate the effortless switch between the different means of transport. The integration of new and innovative forms of mobility and the use of smart services and digi­tal platforms create clear added value for our customers. In this way, we take into account rising customer expectations and create an attractive offer for sustainable mobility and logistics, both in cities and rural areas.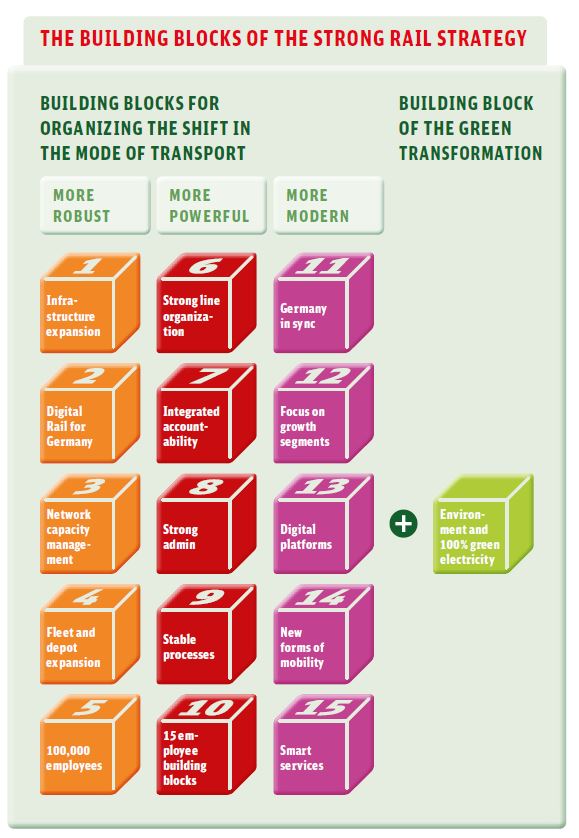 We have identified five central topics for each of the three stra­­tegic areas, which we call building blocks. The key criterion for selecting the building blocks is their importance across business units for our goal of a strong rail system in Germany and therefore also for the Federal Government's transport and climate policy goals. This has resulted in a to­tal of 15 building blocks to help us to organize the shift in the mode of transport. They are supplemented by build­­ing blocks specific to each business unit.
However, the shift in the mode of transport to rail can only achieve its full potential if the railway also continues to strengthen and expand its climate-friendly operations and other environmentally friendly advantages. DB Group's Green Transformation is therefore a central requirement for the effectiveness of the shift in the mode of transport. To live up to the importance of this topic, we have defined another overarching building block through which we aim to ensure the effectiveness of the shift in the mode of transport. Together, these 15 +1 building blocks form the strategic framework of our business alignment.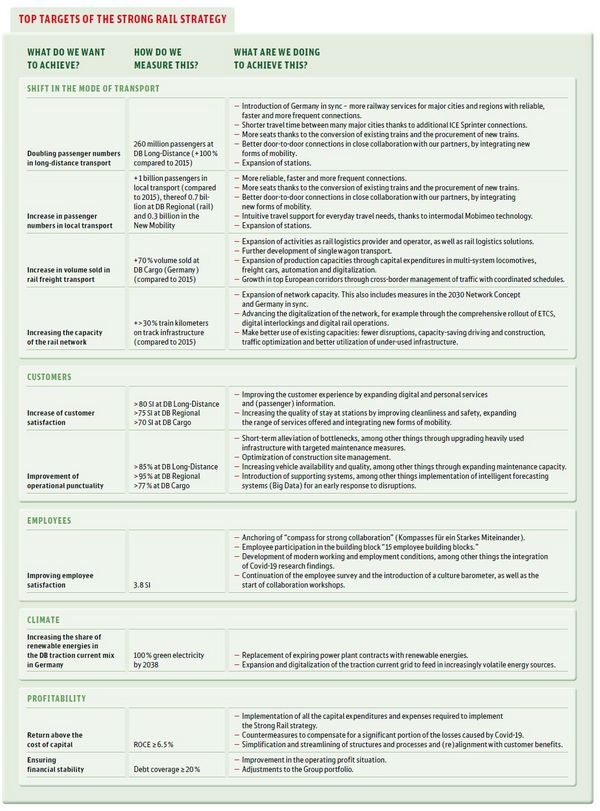 Strong Rail targets
Concrete measures are at the basis of every building block of the Strong Rail. A "construction manager" was named for the operational management of each building block, who is accountable to the Management Board for designing the measures and their operational implementation. The building blocks were incorporated in DB Group's mid-term plan. We monitor contributions to targets with key performance indicators. This measurement is ongoing, and is managed and monitored within the Strong Rail Board, a specially created body, supervised by the Management Board and the Chairs of the business units of the Integrated Rail System.
The basis are the transport policy sector targets of the Federal Government:
doubling passenger numbers in rail passenger transport,
increasing freight transport market share held by rail from 18% to 25%, and
generating traction current from 100% renewable energies by 2038.
We aim to achieve the objectives of the Strong Rail strategy through a to­­tal of ten DB-specific target figures. Our primary objective is our contribution to the shift in the mode of trans­port. To this end, we are focusing equally on growth in rail pas­senger and rail freight transport.
Forecast: Top targets Strong Rail
ANTICIPATED DEVELOPMENT

2021

2022

Passengers (rail) long-distance transport (million)

81.9

~130

Passengers (rail) local transport (million)

1,121

~ 1,400

Volume sold rail freight transport (Germany) (billion tkm)

60.3

>62

Train kilometers on track infrastructure (Germany)
(million train-path km)

1,109

>1.130

Customer satisfaction DB Long-Distance (SI)

77.8

80

Customer satisfaction DB Regional (rail) (SI)

71.6

72

Customer satisfaction DB Cargo (SI)

70

67

Punctuality DB Long-Distance (%)

75.2

~80

Punctuality DB Regional (rail) (%)

94.3

~95

Punctuality DB Cargo (Germany) (%)

69.8

~72

Share of renewable energies in the DB traction current mix
in Germany (%)

62.4

64

Employee satisfaction (SI)

–

3.8

ROCE (%)

–3.6

>0

Debt coverage (%)

4.3
above previous year's figure
at previous year's level​​​​​​​
below previous year's figure
Performance in regional and long-distance rail passenger transport should continue to stage a noticeable recovery in 2022. The exact extent of the recovery will be largely influenced by the future development of the Covid-19 pandemic.
We also expect positive trends in rail freight transport volumes and train-path demand.
At DB Cargo, we expect the customer satisfaction score to be significantly lower at the next measurement in March 2022 due to the significant drop in punctuality over the course of 2021.
Punctuality is expected to improve in 2022. In order to achieve these goals, the quality measures initiated in 2021 will be continued and intensified. However, punctuality targets are under pressure due to the further increase in traffic volumes and a continued very high level of construction activity.
We will continue our measures to reduce the greenhouse gas intensity of the DB traction current in Germany through a consequent increase in the share of renewable energies.
In 2022, we will conduct our sixth Group-wide employee survey to detect trends and changes and to find out which measures are effective and where we still need to take action. We expect this to stabilize at our long-term tar-get level.
Due to the expected significant improvement of adjusted EBIT, along with a simultaneous increase in capital employed, the ROCE is expected to improve.
Debt coverage is also expected to increase significantly as a result of the expected improvement in operating profit.