Capacity expansion for a Strong Rail system
Expanding fleet and infrastructure capacity also significantly impacts quality, and above all, our punctuality.
Infrastructure expansion
In order to implement the Federal Government's policy objectives for the transport sector, network capacity must be significantly increased. Strong Rail envisages an increase in volume produced of about 350 million train-path km, and thus by more than 30%, for passenger and freight transport combined. According to available forecasts, growth will be disproportionately realized on the existing rail network, which is already highly utilized. At the same time as expanding infrastructure, we also need to ensure a high level of network reliability and capacity, even during the expansion phase. We can only achieve a high level of performance and growth in the network in cooperation with the Federal Government. The LuFV III guarantees the financing of the existing network. There are three main levers to help increase the capacity of the network and the volume produced:
New construction and expansion: The realization of new construction and expansion measures is a key factor for additional network capacity. We have the potential to create an additional 180 million train-path km, laying the groundwork for more traffic on corridors and for new service concepts. Necessary projects for this are in­cluded in the Federal Government's priority requirement plan and will be implemented successively. Additional measures supplement these projects, such as further expansion measures to enable Germany in sync or route ex­­tensions as part of the Structural Development Act (Strukturstär­kungsgesetz). Small and medium-sized measures are also a key driver for robustness and growth.
Digital Rail for Germany (Digitale Schiene Deutschland; DSD):With the nationwide roll-out of the European Train Control System (ETCS) in conjunction with digital interlockings and digital rail operations, we are increasing capacity by an additional 100 million train-path km – without building new tracks. DSD includes the completion of ongoing ETCS projects, the implementation of the so-called starter package and the industrialized comprehensive roll-out. In addition to capacity, the program increases the reliability, productivity and inter­operability of the railways in Germany and Europe.
Capacity management and capacity-efficient construction: With additional measures, we will be able to increase the volume produced by another 70 million train-path km. Improved capacity management is an important component of this. This includes coordinating capacity increases, capacity-efficient construction, traffic optimization and disruption minimization. With LuFV III, a budget for capacity-efficient construction has been planned for the first time since 2020 in order to ensure fewer restrictions for train operating companies in the future.
Fleet and depot expansion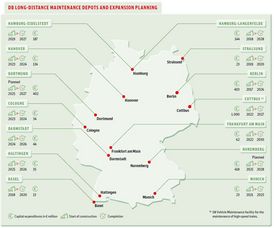 We are expanding our maintenance depots and investing in new trains to ensure we build a strong rail system. We are also investing in the modernization of our vehicles. We want to further increase our vehicle availability.
By the end of 2030, we will be investing just under€ 2 bil­­lion in the maintenance depots of DB Long-Distance and thus in improving the punctuality and quality of ICE and Intercity trains. Larger halls, expanded workshops and warehouses, as well as new maintenance depots, will ensure faster and better train maintenance in the future.
In order to further increase vehicle availability and to create additional capacity in our depots, digitalization and automation are also being developed further. Innovative technologies are being piloted in individual depots and gradually expanded to other sites. Our focus is on optimizing maintenance for our largest fleet (ICE 4), to increase vehicle availability through shorter downtime.
In addition to our depots, we also invest in our vehicles. By the end of 2026, the long-distance transport fleet will expand to over 420 ICE trains. This will include 137 ICE 4 trains. Our first sub-fleet of the 12-part ICE 4 trains has been delivered in full. Our portfolio also comprises 19 seven-part and 21 13-part ICE 4 trains. We receive a new 13-part ICE 4 roughly every three weeks.
From 2022, the first of the 73 new high-speed ICE 3neo trains will be delivered. In addition, we will receive 23 ICE L, which will gradually replace the existing Eurocity fleet, as well as other Intercity 2 trains.
In the long-term, the vehicle fleet for DB Long-Distance will be increased by about 25% to up to 600 trains. The increasing number of new vehicles will create operational scheduling leeway to enable us to better react to unforeseen disruptions in rail operations.
More than 100 trains in the ICE 1 and ICE 3 fleets are being modernized to improve technical reliability and provide more comfort on board. Several measures are being implemented for the ICET to stabilize the technical facilities. These include, for example, improving drive components to increase availability and refitting to ETCS Baseline 3 in order to enable use on the corresponding line networks. A modernization program begins in 2022, which also includes the modernization of the ICET interior. One element of the modernization is the replacement of seat covers and restroom facilities.
The implementation of the Strong Rail transport targets at DB Regional aims to deliver a significant increase in passenger numbers. In this context, seat capacity must be increased by up to 30% by 2030. We will meet this additional demand both through increased capacity utilization of the trains in the medium term and by increasing the capacity of the vehicle fleet.
In regional transport, too, we continue to invest in our fleet and depots. Over the next few years, vehicles on the Berlin, Hamburg, Stuttgart and Munich S-Bahn (metro) lines will be modernized extensively. In addition to improving the technical reliability and comfort of the vehicles, we are also working to increase utilization.
For transport contracts with the Berlin, Hamburg, Rhine-Main and Stuttgart S-Bahn (metro)lines, the vehicle fleet is scheduled to be expanded with contracting organizations by the end of 2024. Additional single or multi-level multiple units are being procured as part of the transport contracts awarded to service the additional train kilometers. In order to increase capacity on the existing rail network, vehicles will be equipped with ETCS. From 2023, for example, the vehicles of the Stuttgart S-Bahn (metro) will be equipped with this technology. The vehicles of the Hamburg metro (S-Bahn) will then be equipped from 2024.
Over the next few years, there will also be capital expenditures in regional transport workshop infrastructure to maintain and expand maintenance capacities. Up to 2025, these measures will focus on workshops for the S-Bahn (metro) networks in Berlin, Freiburg, Ludwigshafen, Munich and Tübingen.