DB Schenker business unit
Business model
DB Schenker serves established markets and emerging na­tio­nal economies as an integrated transport and logistics services provider with a global network.
In land transport, the network connects the most important economic regions in Europe. Services include time- and cost-optimized services for general cargo, partial and full load transport along with door-to-door solutions across Europe. Land transport in America is becoming an increasingly important area of activity. In addition to serving the North American markets, activities in South America are being expanded. DB Schenker is also continuously expanding its land transport business in the growth market of Asia.
As one of the global leaders in air and ocean freight, DB Schen­­­­­ker offers the entire range of services in this segment.
In contract logistics, the services offered cover all stages of the value-added chain from supplier to producer/trade, end customers and spare parts services. The core area of expertise is the planning and handling of complex global supply chains, including sustainable logistics concepts.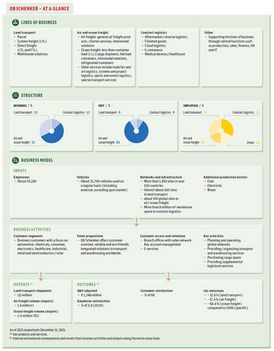 DB Schenker has a global customer base in a wide range of industries and a focus on industrial customers. The vertical market approach is aimed at developing industry-specific solutions. Major customers are supported with tailor-made solutions.
In air and ocean freight, DB Schenker acts solely as a freight forwarder without our own aircraft and ships. In some segments of land transport, we use our own vehicles and con­­tainers. Transshipment terminals and warehouses are generally our own property or are leased over the longer term. In addition to airlines and shipping companies in air and ocean freight, our major partners include land transport subcontractors for the supply of transport services.
Performance is measured specifically for each line of business:
in land transport, this is measured by the number of shipments,
air freight is calculated by tons billed, and
the volume of ocean freight is measured in TEU.
There is no comparable volume measurement in the contract logistics segment. In this case, market comparisons are usually made on the basis of revenues.
DB Schenker has a relatively low capital intensity and real net output ratio. About 70% of revenues in the transport business line come from procured intermediate input services. Therefore, optimizing these purchase relationships and balancing various influential success factors such as transport relations, volume, weight and mode of transport represents an important factor for success and a value driver. The same applies to managing fluctuations in freight rates and the specific surcharges to these freight rates. One of the essential factors besides gross profit is the effective and efficient use of personnel. This is of particular importance in the contract logistics line of business. Here, know-how and experience relevant to the industry are an essential success factor in the optimal design of intra-company logistics processes. Effective IT support is also especially important.
The most important sources of income are transport and logistics services, including services with added value concentrating on the strategic areas of aftermarket, cloud, finished goods fulfillment, omnichannel and medical devices, with a focus on supporting the electronics, healthcare, indus­trial and e-mobility sectors.