Support for people in need
Deutsche Bahn Foundation works closely with the German Association of Railway Station Missions (Verein Bahnhofsmission Deutschland) and the roughly 100 railway station missions. This partnership has enabled a series of projects to be developed.
Under the mission statement "Learning for Life," Deutsche Bahn Foundation is funding low-threshold, participative edu-cational opportunities for regular visitors to the missions.
The "Motivators at the Station" project developed at the Berlin central station is being rolled out nationwide as a quali­fication program for employees of various railway station missions. The objective is to provide qualified advice to people under mental strain.
The video interpretation project established at major stations helps foreign-language-speaking passengers obtain answers to queries by making it possible to consult video interpreters in more than 60 languages via tablet.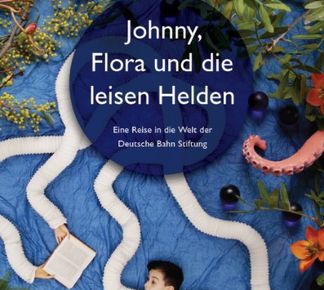 Foundation book
The book "Johnny, Flora and the Quiet Heroes" was published in 2021 and presents the charitable commitment of Deutsche Bahn Foundation. It addresses serious subjects such as depression, youth homelessness or humanitarian aid in a child-friendly way in order to raise children's awareness of socially relevant issues.
Deutsche Bahn Foundation also supported a walk-in clinic near the Berlin central station, where people without health insurance could receive medical assistance at any time of the year free of charge. Dur­ing Covid-19, the clinic expand­­­ed its service offering with a quarantine station, vaccination campaigns and tests in emergency shelters.
Through Deutsche Bahn Foundation's "wish fulfiller" (Wünscherfüller:in) project, thousands of employees give gifts to people in need in the lead-up to Christmas. At DB sites, there were wish fulfiller Christmas trees with more than 3,000 wishes for children, women and men in need from charitable organizations.