DB Regional business unit
Business model
The core service of DB Regional is to bring millions of passengers in regional transport to their destination every day on time and in a safe, comfortable and environmentally friendly manner, and in doing so, to meet the requirements of the respective transport contract.
Our offerings cover both regional rail passenger transport with regional express, regional railway and S-Bahn (metro) lines as well as regional and urban bus transport services. We therefore offer passengers comprehensive mobility services in major cities and metropolitan areas, but also especially in rural areas. Our regional organizational structure guarantees local transport services oriented towards the requirements of our local customers.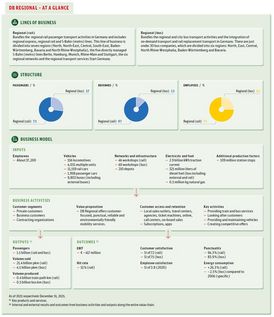 As a rule, DB Regional provides its regional rail passen­ger transport services within the framework of the Regionali­zation Act as a public service and on behalf of the competent contracting organizations. The contracting organizations are either the Federal states or a state-owned company, or munici­pal special-purpose associations. The contracting organizations conclude long-term transport contracts and route concessions with transport companies, mainly within the framework of competitively awarded tenders. These contracts determine the volume produced and contain detailed specifications on quality and fare pricing. With integrated transport concepts, high-quality mobility services and targeted capital expenditures on the vehicle fleet and digitalization, we aim to defend our leading market position and strengthen our role as a quality and innovation leader in the field of regional rail passenger transport.
Volume sold and volume produced are important key performance figures. Transport contracts typically refer to the volume produced.
Concession fees, in addition to revenues from ticket sales, are the most important source of income. However, contracts where fare proceeds remain directly with the contracting organization, while the transport company is fully compensated by the public transport authority for the entire range of services (gross contracts), are also of increasing importance.
Predefined terms in transport contracts and route con­cessions, combined with the extensive production sys­tem, re­­sult in a cost structure with high fixed costs. The key drivers are personnel, maintenance, energy and infrastructure expenses. Only a small portion of expenses vary with the load factor.
In the rail sector, integrated bids covering vehicle procurement, financing, fleet management, operation and maintenance were generally required by the contracting organizations in the past. Nowadays, individual, fragmented tender models are becoming more common. In such models, partial services or even only the basic operation are put out to tender. In these models, other partial services remain the responsibility of the contracting organizations (financing, for example) or the responsibility of the vehicle suppliers (maintenance, for example). On the basis of its performance capability at all stages of the value-added chain, DB Regional is in a position to tailor partial services as required and also to operate successfully on the market as a subcontractor for competitors.
In the national bus market, competition in the regional bus sector continues to increase, both as a result of tenders and of licensing auctions. In urban transport, bus services are often awarded to local municipal companies in in-house awards.